Children's Language Classes
Would your child enjoy to learn a new language?
In our school setting, your child will be immersed in their chosen language with games, projects and fun activities.
We teach Englisch, German, French, Italian and Spanish.
Please enquire about ongoing classes
---
Summer Camps for Children in German
Each summer, we run summer camps helping children and teens improve their language skills through fun activities such as arts, crafts, music and culture. Learning by playing during their school holidays according to their age and level. We put emphasize on speaking, from the very beginning.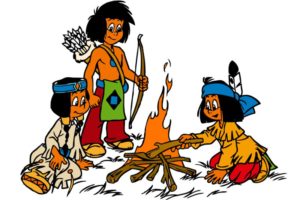 INDIANS
From Monday, July 16 – Thursday, July 19
from 9:00-12:00
Age group: 5-8
Cost: 320.00 CHF
Our German teacher  will explore the world of Indians through games, activities and stories. Your child will get the chance to broaden his/her vocabulary and language skills in German.
Children who visit the International or Swiss school system are welcome.
Registration: info@languageatelier.com
---

Gymivorbereitungskurs
If your child would like to prepare for the Gymiprüfung for the Langzeitgymnasium and they would benefit from additional support, we offer the following courses:
20 weeks course from Wednesday September 13, 2017 – Wednesday March 7, 2018 from 14:30-16:00
10 weeks course from Wednesday December 6, 2017 – Wednesday March 7, 2018 from 16:00-17:30
These courses are designed for primary school children preparing for the Gymiprüfung and who need additional support in German. During class time will be dedicated to strengthening grammar skills, developing writing skills and broadening vocabulary. We limit the class size to 6 children. Homework will be given after each lesson. Our teacher teaching this class is a qualified German teacher for Gymnasium who has taught Gymivorbereitung over decades.
Cost: 900.00 CHF for 20 lessons x 90min
Cost: 450.00 CHF for 10 lessons x 90min